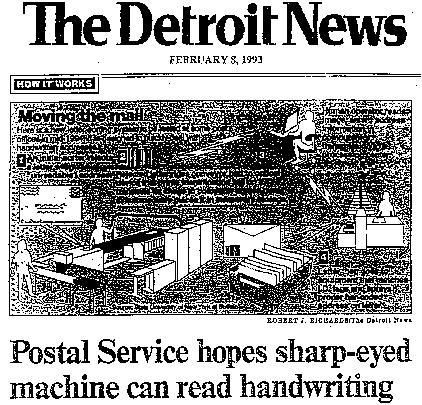 By Hugh McCann
THE DETROIT NEWS
Checked your handwriting lately?
According to the U.S. Postal Service, 15 percent of all letter mail is handwritten. And there is the problem.
Every day, the automated mail-processing system rejects more than 100 million letters because it can't make out addresses scrawled on the envelopes. So these letters have to be processed manually, and that costs time and money.
At the Center for Excellence for Document Analysis and Recognition at the State University of New York (SUNY) at Buffalo, computer scientist Sargur Srihari is working on the problem.
"We are trying to improve the brain of the machine," he said, "to make it smarter, to (make it) read more of the addresses."
Sorting equipment currently in use recognizes only 50 percent of letter mail.
According to Srihari, letters with hand-written addresses are "almost always rejected" by the optical sorters now in use -- "unless the writing is print-like."
In 1984, the Postal Service gave the University of Buffalo $100,000 to study the possibility of developing optical technology that could read handwriting. Currently, it is funding the research to the tune of $3.5 million a year.
The university's document analysis and recognition center has developed the Multi Line Optical Character Recognition(MLOCR) system. A marriage of new computer hardware, software, camera and improved optics, it is designed to make sense out of scribbles and scrawls.
But even typewritten addresses -- and 85 percent of letter mail is machine- typed -- can create problems.
"There is a significant percentage of typed mail that is rejected," the University of Buffalo researchers said. The problem may be an address too faintly typed or typed in dot-matrix characters. Or may be a glassine window covers the typed address.
Whatever the cause, current post office optical sorters recognize only about 50 percent of all business letter mail, and "all this causes a considerable amount of mail to be handled incorrectly," he said.
Srihari said that the MLOCR system could be ready for testing in the post offices in some major cities by mid-1994.