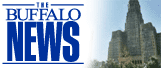 Saturday, May 29, 1993
---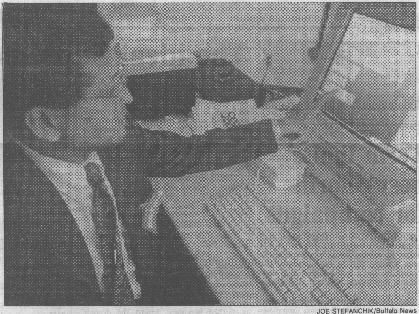 Sargur Srihari demonstrates a computerized address scanner during
Thursday's symposium at the University at Buffalo.

By TONJA C. MOSS
News Staff Reporter
Just before the last episode of "Cheers," mail carrier Cliff Claven was asked what may be adding to the stress of postal workers. His reply: "illegible handwriting."
Getting computers to understand the complexity of human handwriting was the focus of an international conference here that ended Thursday.
For the first time, the United States was the site of this symposium, held at the University of Buffalo where one of two postal service research centers in the nation is located.
"There is a tremendous amount of interest in this topic." said Sargur Srihari, director of CEDAR, the Center of Excellence for Document Analysis and Recognition. "There is so much interest in this subject that the United States Postal Service has pumped over $10 million into its research since 1984."
So what does the center have to show for all that spending nine years later?
Computers have now been developed to scan and analyze ZIP code information at a rate of seven envelopes per second, as opposed to the manual rate of one envelope per second.
"Computerized scanning of handwriting could significantly increase the amount of letters processed daily." Srihari Said.
Optical scanners in current automated postal systems reject about half of all mail and 95 percent of handwritten mail. But the system developed at CEDAR can read 75 percent of handwritten addresses.
The Postal Service receives 55 million pieces of handwritten mail to be processed daily. Manually, only 15,000 to 16,000 pieces of mail are sorted by each worker each day across the nation.
In addition it costs $3.50 to process 1000 pieces of mail by machine, by hand, the same job costs the Postal Service $45. The Postal Service handles 166 billion of mail per year.
However with the advancement of technology, a computer can analyze 36,000 pieces of mail within an hour.
"We don't want to put people out of work," said Richard Fenrich of CEDAR, "but many are stressed over automation."
The new technology is designed to save postal workers time, save the post office money and reduce the stress of the job, officials said.
Srihari said the goal of this research is to have at least 50 percent of the handwritten mail processed by machine.
This technology may even make it possible to transcribe handwritten notes to machine type, said Stepan Pachikov, president of ParaGraph International in Colorado.
ParaScript, a computerized system that ParaGraph International developed achieves high levels of recognition through a three-step process: word segmentation, feature extraction and work recognition.
Another system, Personalized Digital Assistants, stores the notes in a computer for further use but does not transcribe the image into actual machine written words, and is available in stores.
"The PDA retails for $450, but as technology advances the price will decrease," according to Srihari.
In 1991, UB researchers developed the first computer vision system that can read most of the styles, shapes and sizes of handwritten numbers, and the achievement was a breakthrough in postal automation.