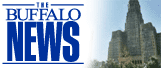 The Buffalo News/Sunday, July 30, 1995

Coming up with an extended ZIP code to speed a letter on its way just got a little easier for those who are linked to computer networks, thanks to a University at Buffalo project.
A computer program and data bank developed by UB's Center of Excellence for Document Analysis and Recognition provides the nine-digit extended ZIP code for any U.S. address after the user types in a name, street address, city and state.
The center's National Address Server has been chosen by Apple Computer for its "eWorld" on the World Wide Web, an information superhighway linking networks around the globe. The server is listed on the library page of WebCity, the company's consumer site on the Web.
The server does more than add a ZIP code to an address for "snail mail," the traditional written or printed letters that e-mail enthusiasts claim will become obsolete.
"An important aspect of the National Address Server is that the system will clean up the address if there are slight errors in it," said Sargur Srihari, center director.
"If, for example, you type in 'Maple Avenue' when the proper location is 'Maple Road,' the server will correct it for you and provide the complete ZIP-plus-four code."
The server also will provide the appropriate computer bar code for the address, which a user's computer printer then can spray onto the envelope.
Apple customers can find the server through WebCity or at the Universal Resource Address http://www.eworld.com/general/reference/. Others can access the service directly via the Web at http://www.cedar.buffalo.edu/adserv.html.