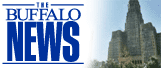 Buffalo, NY
Thursday, July 3, 1997
Page C-6
---

Two faculty members at the University at Buffalo have been named distinguished professors by the State University of new York board of trustees.
The designation, the highest in the SUNY system, was accorded to:
Paras N. Prasad, founder and director of UB's Photonics Research Laboratory and an internationally recognized leader in the field of optics and spectroscopy. He is Photonics Science Professor of Chemistry at UB where he has been a faculty member for 23 years.
Sargur N. Srihari, founder and director of UB's Center of Excellence for Document Analysis and Recognition which in internationally recognized for its work. He is a professor in the computer science department and has been at UB since 1978.

The rank of distinguished professor is given to individuals who have achieved national or international prominence in their fields.

Charles V. Paganelli, a professor of physiology at the university, was also honored recently by the SUNY trustees who named him a SUNY distinguished service professor.

He joins Peter h. Hare, a professor of Philosophy at UB, who was also named a SUNY distinguished service professor. The rank is accorded those who have consistently contributed extraordinary service to SUNY, their communities, region, state or nation.

Diane R. Christian, a UB professor of English, was named a SUNY distinguished teaching professor. The rank recognizes consistent demonstration of the mastery of teaching.