Volume 5            Fall 1997            Number 3
---
Srihari Delivers Convocation Address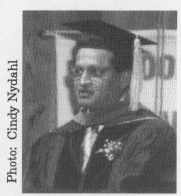 Sargur N. Srihari, Ph.D., Distinguished Professor of Computer Science and Director of the Center of Excellence for Document Analysis and Recognition (CEDAR) provided remarks at the third annual university convocation. The event was held on October 15, 1997 in UB's Center for the Arts on the North Campus. Srihari's address was entitled, "Information Technology in the Academy."
Srihari spoke about how Information Technology (IT) affects the way students learn and how "the future will need large numbers of individuals who can create IT, and the academy will be the place that will produce them." He went on to say that IT needs a home where it can be nurtured, but since IT is interdisciplinary, the best home for it could be in many different places.
Srihari related this situation to an old Indian legend of The Blind Men and the Elephant. While each of the men were correct in describing one aspect of the elephant, they were all wrong in describing the beast as a whole. Similarly IT-related faculty will have to pool their collective intellectual resources to "bridge the gap between several groups within IT-related disciplines." Only then will we be able to achieve our institutional goals and assist in strengthening our regional economy.
As part of the convocation ceremony, Srihari was recognized for his promotion to Distinguished Professor, the highest rank in the SUNY system. Other FNSM faculty and staff members to receive honors included Paras N. Prasad, Ph.D., from the Department of Chemistry, for his promotion to Distinguished Professor and Martha A. Barton, Associate Dean, for her receipt of the Chancellor's Award for Excellence in Professional Service.