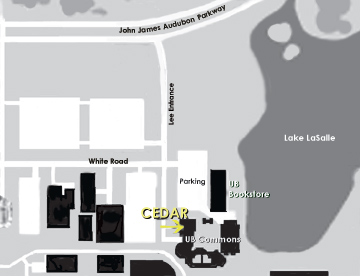 Amtrak . Buffalo Airport . Toronto Airport . NYS Thruway
Take I-90 West to toll booth.
Exit I-90 West at 1st exit after toll to I-290 West (Youngman Expressway).
Proceed along I-290 West then exit at 990 North.
Exit at the first exit, marked State University Exit.
From exit ramp, get into the far left lane and turn at the 1st U-Turn through the median, just before traffic light.
Get into far right lane and exit onto White Road.
White road terminates at the Bookstore parking lot. The UB Commons is located to the right (east) of the Bookstore. CEDAR is on the 2nd Floor, Suite 202.