| | |
| --- | --- |
| previous page | next page |
| | |
contents
introduction
page layout analysis
segmentation
jis code recognition
character segmentation
image database
character recogntion
feature description
error subspace classifier
nearest neighbor classifier
recognition accuracy
confidence computing
error analysis
truth data collection
converting ocr results
conclusions
Feature Description
Local Stroke Direction (LSD)
Local direction contribution (LDC), Hagita and Masuda (NTT), 1981
(See also in S. Mori, K. Yamamoto and M. Yasuda's "Research in Machine Recognition of Handprinted Characters", PAMI-6, 4, July 1984.)
Our implementation: feature size = 256 (4x8x8); each feature element is an integer.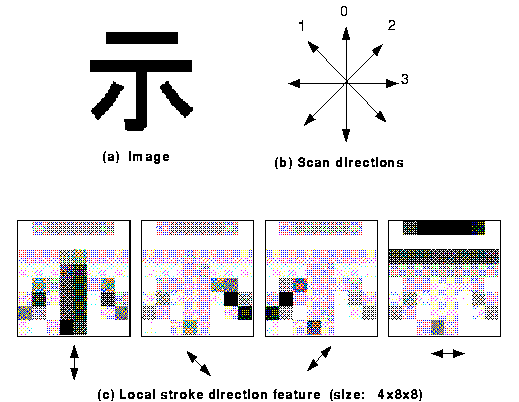 Gradient, Structural and Concavity (GSC)
Local orientation histograms used to compute gradient/structural features.
Global descriptors for pixel density, large stroke and concave regions encoded in concavity features.